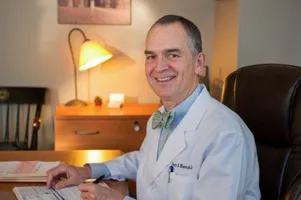 Dr. Hendrix welcomes you to Central Austin Dermatology!
From acne , to skin rashes to melanoma , from psoriasis to aging skin, Central Austin Dermatology is equipped to handle all your dermatological needs . To help you understand your options, we've included descriptions of some of our services on this page.
Aesthetic Services

Our goal is your goal: to help you look your very best, regardless of your age. We provide a select number of aesthetic treatments that will help with uneven color, lines and wrinkles while you maintain a completely natural appearance. We promise never to "push" any cosmetic service on you, but instead to provide you with honest, professional advice and realistic expectations. Some of our aesthetic services:
Ultrasonic Microdermabrasion Facials
Intense Pulsed Light Treatments for Hyperpigmentation and Redness
Sublative Fractional Resurfacing for Skin Tightening and Acne Scarring
Laser Hair Removal
Botox Injections for "Worry Lines"
Chemical Peels for Fine Lines and Hyperpigmentation
GlyMed Skin Care Products
For more information on our Laser/IPL/Sublative treatments, go to
http://syneron-candela.com/int/treatments

For more information on GlyMed skin care products, go to
http://www.glymedplus.com/
Medical Dermatology
We provide a full range of medical treatment for all dermatologic conditions. Our providers, Jay Hendrix, MD and Shirien Coover, PA-C, have many years' experience treating diseases of the skin, hair and nails. Some of the treatments that we offer, specific to dermatology, are:
Ultraviolet therapy , including PUVA and narrowband ultraviolet B, for psoriasis and other inflammatory skin disease
Isotretinoin (brand names include Accutane, Claravis, and others) for severe or resistant acne

"Biologic" Therapies: systemic medications for severe widespread psoriasis
Please call with specific questions.
Surgical Dermatology
We provide a full range of surgical treatment for benign and malignant skin lesions, including skin cancers , cysts, moles, warts and many other skin lesions. Both of our providers perform skin biopsies, cryosurgery ("freezing" with liquid nitrogen), and other minor surgical procedures. All excisional surgery is done by Dr. Hendrix.